News
Christmas 2022
by FIST RAGE on Dec 23, 2022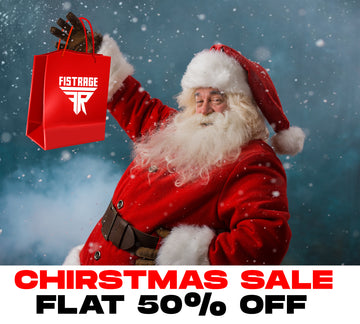 The Stock Filler Christmas SALE of 2022 Under $50
Discover the best range of boxing, martial arts & more other accessories related to fitness or gym on Christmas and enjoy the sparkles of Christmas jingle bells. The great event of Christmas brings bundles of happiness and entertainment every year on the 25th of December. So, let the love and pleasure fill our lives; it's Christmas, and create a great holiday memory with these fantastic moments with your friends and family. 
Do you want to save money on your purchases as a shopping enthusiast? I hope this article will help you to choose the killer products that you need at the minimum prices. Fistrage has arrived with a milestone Stock Filler Christmas Sale of 2022 Under $50 If so, this article is perfect for you. You can't resist the temptation of these amazing deals offered by Fistrage. If you are just looking for amazing bits for you or your club fellows or friends in your circle then here, we have a lot of collections with the budget in your mind.  
Now one thing that will be in your mind is how much the products are going to cost you and how they will help you with this festive Occasion of the Christmas sale. Now let us inform you that our prices are already very pocket friendly when compared to others. Furthermore, one more thing you will notice is that we are providing more features and options at fewer prices. As the Christmas Sale will be ending soon, so the best time to buy your riding gear is now. 
We have come a long way with a fabulous collection of boxing gear & accessories to provide you this Christmas, which you must need from Fistrage at highly affordable prices to meet your budget. We have excellent quality material for you to provide at very reasonable prices.
If you don't have planned anything yet, don't worry, I'm here to suggest you choose from a vast range of Boxing or Martial Arts products for just under the worth of $50. We have a bunch of various products in Martial Art to put on your Christmas list if you are a keen fighting enthusiast in the ring.
BOXING SHOES: Under $45
You can get Boxing Shoes for a small amount of money because this Christmas has come up with a massive sale offer of FLAT 50% OFF, so this is the perfect time to get benefits at the end of this year to fill your wardrobe for the next year. They are manufactured to adapt to all weather conditions and situations by keeping the comfortability of the Boxer in mind. Our shoes are meant to give you solid traction and comfort in the ring.
They are specifically intended to protect you from any foot or ankle injury while boxing competition, as they are suitable for people of all ages. Wearing Boxing Shoes will not just keep you secure, but your performance will also beef up. Your workout during this Christmas holiday will be comfier, entertaining, and more enjoyable with purchases from Fistrage.
WRESTLING SHOES: Under $45
Fistrage has an incredible Pair of Wrestling Shoes offering you at highly reasonable prices for just $42. These shoes carry all extant safety features and also come up with maximum protection, comfort, ventilation & a reliable grip, weatherproof, and waterproofing breathability to enhance comfort in various atmospheric conditions. This sturdy-made pair of shoes are high on the wish list of everyday Wrestlers for safety from sudden incidents.
JIU JITSU GI: Under $50
Fistrage has the greatest assortment of JIU JITSU GI, designed with modern features in various colors, styles, and sizes to fulfill all fighters' needs. It is very simple, very stylish, and very well-manufactured, sturdily made with the finest material for $45 after Christmas Sale Flat 50% Off. Get yourself an amazing bargain at the end of this season for your upcoming competitions.
Special discounts and incentives accompany unique events. Fistrage is here to assist you with high-quality boxing, martial art products & workout accessories, and they have prepared the entire year to provide you with valuable discounts and coupons. The best part about Fistrage is that we are here for you 24 hours a day, 7 days a week, so you can contact us whenever you want.
We sell all Boxing related items, such as Jiu Jitsu Gi, Boxing & Wrestling Shoes, Boxing Gloves, Weight Lifting Belts, Speed Bags, Punching Bags, and many other workout accessories. Fistrage is the perfect place in the USA to present you with high-quality products to accomplish your style and also match your budget.
Fistrage has a vast range of more products you can just get below $50 and most of them are worth buying at very reasonable prices you can say that they just cost under $30 or $20.
Your Christmas Wishes Do Come True Here!