News
HOLY CITY - FIGHT NIGHT
by FIST RAGE on Oct 13, 2022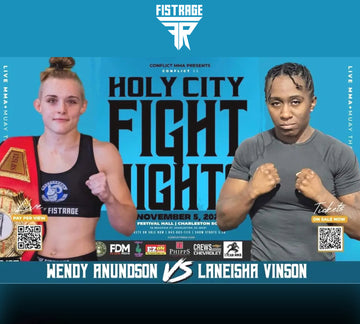 Fight Night Conflict 55| Festival Hall, United States| Fistrage
MMA is a full-contact sport that allows people of all ages and genders to experience the excitement and adrenaline rush of a real fight. A fight is going to begin between two tough fighters, well- prepared, they'll beat each other until the final bell and that's exactly what the two veterans will deliver in the ring of the United States.
Conflict MMA is presenting you to indulge yourself in the Holy City Fight Night on the card of Conflict 55 on November 5, 2022, at the Festival Hall in Charleston SC. Get ready for this amazing adventure night. More specifically, the couples are about to head over to the 56 Beaufain St Festival Hall for the Upcoming Holy City Fight Night.
MMA competitions have also become very popular around the world and even in the United States. A sporting occasion of MMA Fight Night at this level is a once-in-a-lifetime opportunity, and we're praised for existing a part of this occasion which is going to be held in Charleston SC.
Wendy Anundson will be on the top-notch by our side & beat her competitor in the ring. Women's Flyweight MMA Title Current Champion of Conflict 53: Wendy Anundson vs LaNiesha Vinson will be in front of each other.
These fighting events are occurring simultaneously on television channels all over the world. Practically, this has led to the global promotion of live matches concerning hand-to-hand combat.
Buy Tickets for Holy City Fight Nights
So, if you're also wondering to order tickets online for this massive event, then you must visit the official site of conflictmma. Anyhow, this is going to be a great & entertaining all-hell MMA fight show. Wendy Anundson can rightly be considered one of the best fighters ever in the United States as she is the Winner of the recent fight on the card of Conflict 53.
You can easily get tickets for the fight night competition from conflict MMA. The great MMA Sports event at conflict 55 will probably be held in your hometown on the 5th of Nov to entertain you to respect your moral values.
Conflict MMA offers a variety of ticket options for the MMA boxing competition, so plan your next move to Festival Hall. The event is scheduled to attract several leading fighters from the region to participate in this event! The booking of the tickets for Fight Night has been started with a categorized price range between $40 to $1000.
Come out and see the conflict 55 fight card of the year in the Festival Hall, Holy City on November 5th, 2022.
Come out and see the conflict 55 fight card of the year in the Festival Hall, Holy City on November 5th, 2022.
The Ultimate Fighting Championship (UFC) is one of the most prominent international MMA organizations. UFC has evolved into a global phenomenon due to its gritty rivalries between well-known fighters, Muay Thai fighters, wrestlers, and other eminent martial artists. All participants train considerably for their roles before competing in front of stadiums worldwide.
An MMA fight involves using weapons, such as knuckles and limbs, in addition to hand-to-hand combat. Some of the best up-and-coming warriors in the region will be taking part in this event in the festival hall! More and more people are tuning in to watch live MMA events over the past several years as the sport has grown in popularity.
It's mandatory to understand how MMA became so popular and also learn what events are involved and where they take place.
Most Fight Night MMA is a public event that provides competitions for various martial arts disciplines such as MMA, Kickboxing, & Muay Thai.
There's exclusively so much to adore concerning this card with historic and incredible moments, and if you've never seen it before I guarantee you it's definitely worth heading out of your way to experience. So, get your heads over to the Festival Hall in Charleston, SC on Nov 5th.